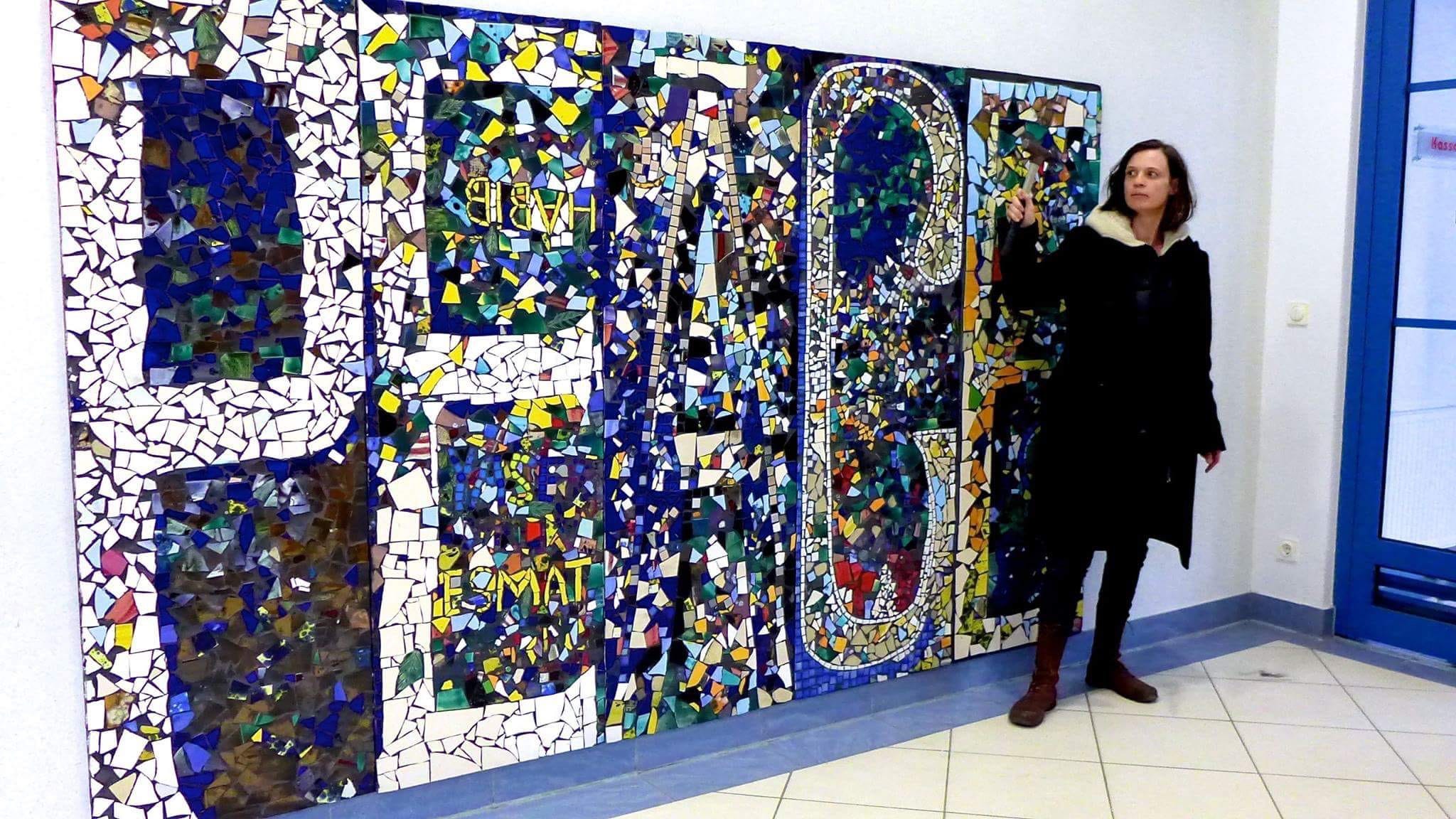 Here is a picture of LOu with a communal mosaic which we have created in Traiskirchen with Afghani youths in 2015
LOu Moser
LOU MOSER
LOu Moser comes from the South of Vienna, and grew up in her parents hotel in Hinterbrühl, which was an historic meeting place as far back as Franz Schubert. In this artistic fertile environment, LOu began working with clay.
She describes her personal approach to the creative process as a growing feeling that constantly evolves, as she explores the possibilities of ceramics.
Following her inner vision to New Zealand, where she stayed and created for the next 15 years in the Northern most part of the South Island.
In 1999 she began working from her first studio (Pigeontoe Studio) in Golden Bay N.Z. with her partner Gus M. Scott.
During the next 10 years in Golden Bay she dedicated herself to the art of mosaics and the production of mosaic tiles. She has won awards in ceramics, photography and made mosaic artworks for public spaces.
By 2011 along with Gus M. Scott, LOu converted an old wine press room into a functioning ceramic studio naming it Kunsthof Scott-Moser.
Together with Gus M. Scott she is currently holding courses in mosaics and paper clay sculpture. A strong focus is in creating mosaic art for public spaces and sculptural work incorporating ceramic figures with mosaics.
Her work is in public and private collections in New Zealand, Australia, Austria, UK, USA and Germany. LOu has had solo shows, taken part in various group exhibitions, and is now showing regularly at Kunsthof Scott-Moser studio.
Currently LOu is finishing her training in 'Work on the clay field' ( an art therapeutic approach)
Influences:
Lucie Rie, Niki De St Phale, Rosette Gault, Antoni Gaudi, Friedensreich Hunderwasser, Franz Schubert, Pippiloti Rist, Libby Bold, Gus M. Scott, Henry Moore, KT Gold.